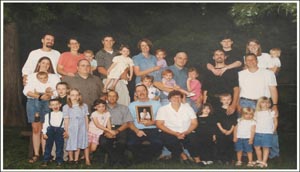 Charles and Nancy Hugo Family, 2002
Main Feature
Our family is an American Family. We come from a Heritage of what built America. The Mikel branch followed the Great Wagon Road from Pennsylvania to North Carolina and moved west to Kentucky, Illinois, Missouri, Kansas and Colorado. The Hugo branch came from England, to Toronto, Wisconsin, Washington Territory, Missouri, Kansas, Oklahoma, and California. The Johnsons of the Creek Indian Tribe were here to meet the rest. The Whitlocks were early settlers in Kentucky. The Everetts moved westward from New England. The late coming Willdens came from Europe to Nauvoo, Illinois, then westward to Utah and Colorado. We have sent our men to fight for our Country in every war beginning with the French and Indian War. The very history of the United States can be traced through our family.

We have received the American Spirit and freedom.

This web site is dedicated to those who have come before. By learning of them, may we go forward with more strength.